Hébergement:
vilayer.com
Visit Vilayer
Evaluation:

3.1

Fourchette de prix:

$0.75 per slot

Slots:

20 - 128

Période d'essai:

Pas de version d'essai

Promo codes for Vilayer:
Server location of game hosting:

Netherlands Amsterdam

France Paris

United Kingdom London

Spain Madrid

Germany Frankfurt

France Strasbourg

Italia Milan

Switzerland Zurich

Czech Republic Prague

Russia Moscow

Sweden Stockholm

Estonia Tallinn

Finland Helsinki

Singapore

South Korea Seoul

Japan Tokyo

China Hong Kong

China Anhui

China Shanghai

China Beijing

Australia Sydney

Australia Melbourne

New Zealand Auckland

United States NY New York

United States NJ Philadelphia

United States NY Buffalo

United States GA Atlanta

United States FL Miami

United States TX Dallas

United States MO Kansas City

United States IL  Chicago

United States MO St Louis

United States WA  Seattle

United States CA Los Angeles

United States CA San Jose

United States NV  Las Vegas

United States UT Salt Lake City

Canada QC Montreal

Payment cycle:

1,3,6,12 months

Website languages:

English

More details about Vilayer
Méthodes de paiement:
Support de mods:

All Mods Supported

1-Click Install & Update

Mod Manager GUI

Assistance clientèle:

Ticket System

24/7 Support

Notes:

Automatic Backups

Includes Voice & Web Hosting

Panneau de configuration:

Custom

Supports de clusters:

Free
Main features for ARK : SURVIVAL EVOLVED Game Servers

 

Our system has 1000s of features that would be impossible to list however here are some of the main ones!

 

Official Provider

 

Vilayer is an official provider for ARK : SURVIVAL EVOLVED game servers and we provide official public servers in a selection of locations for everyone to enjoy. Vilayer's servers are setup and configured to give you the most out of public gameplay.

 

Cross Travel / Server Linking

 

We fully support cross travel technology and you can link as many servers/instances as you like and all of this is built within our ACP control panel.

 

Procedural Generator Support

 

We fully support full procedural generator of maps, you can fully configure every aspect of the map for example how much water, trees etc. if the game supports this. Some games only support random generation of which you can configure this directly through our ACP.

 

Data Manager (Backup and Restore)

 

Allows you to keep constant control over your servers data such as player and world data. You can backup and restore just the players or just the world or everything at the click of a single button. You can also schedule backups to run at anytime regardless of whether the server is running or turned off.

 

ARK : Remote Server Manager

 

ARK Server Launcher is a tool to help you setup servers both locally and remotely with the addition of ARKRemote. ARKRemote allows you to remotely configure and manage your server using ARKServerLauncher. It has RCON, Fully featured slider configuration tools allowing you to control every aspect of the game and much more...

 

Full Map Support

 

With the click of a button within our ACP you can change map to any of the maps that the ARK : SURVIVAL EVOLVED game server supports. You can also upload your own custom maps and configure the servers maplist with ease.

 

ARK : SURVIVAL EVOLVED Game Server Hosting at VILAYER

 

 

 

We have been hosting Game Servers and offering multiple types of Game Server Rentals options for 10+ years, we have spent 1000s of hours developing our unique infrastructure world wide offering our clients 40+ DDOS protected locations all with the same high standard hardware, network and control interface.

 

We absolutely pride ourselves on making 110% sure that your game server hosting runs only on the highest performance hardware available thus making sure your server runs at the max the ARK game engine will offer. Also at VILAYER we don't use any types of virtualization at all on any of our gaming servers, we only use pure dedicated servers to run your gaming server and best of it all is we don't limit the usage regardless of how much the game uses.

 

Over the years we have gotten to know the game and mod developers within the community and generally have direct access to their development team which also allows us to better serve you as a customer if you were to have an issue with the specific game or mod.

 

Our ARK : SURVIVAL EVOLVED game server hosting has been specifically developed for both users who are advanced and users who are first time game server owners.

 

We have developed a number of advanced tools within our ACPLAYER to help you administrate and run your ARK game server.

 

As all games do vary in configuration and complexity sometimes it can take further configuration and mod installations before your ready to connect however within our ACPLAYER most of the mods and all the configuration files are available at a click of a button. This ease of access means your game server could be ready to go in minutes and if you were to require help we are ready here via multple mehtods of support.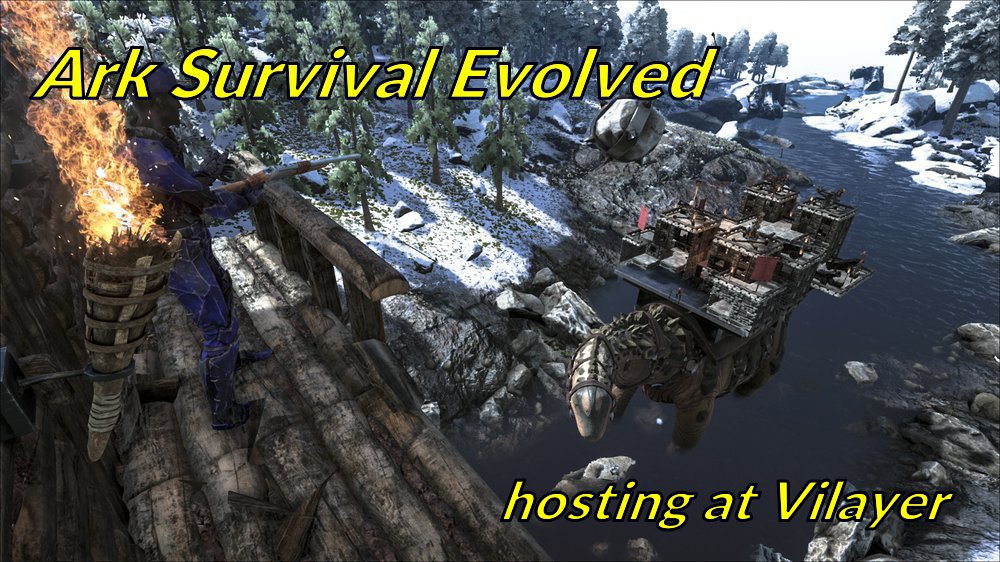 Last reviews about Vilayer:
Very bad experience
Very bad experience, not recommended to buy here, they charge you for the product, which they do not have in stock, they close the support tickets without answering, they spend the days after paying and without having the service, nor the return of the payment.Buy here is losing money, time and patience.

One of the best services I've ever used
I Have had vilayer for some months now, I get the best support I've ever had from a company. The support team helps me with adding plugins or any bugs that I encounter. The servers run fine as I have 5 servers with them I use them for Csgo and I never get any lag problems.

Server does not work
Server does not work. No support. And they wont answer my request for a refund. I tried many hosts, this has been the worst.