Hosting:
gtxgaming.co.uk
Visit GtxGaming.co.uk
Rating:

4.8

Price range:

$0.34 - 1.7 per slot

Slots:

10 - 250

Trial period:

There is trial version

Promo codes for GtxGaming.co.uk:
Server location of game hosting:

Australia Sydney

Canada Quebec

France Paris

France Strasbourg

Spain Madrid

Germany Frankfurt

Russia Moscow

Singapore

Sweden Stockholm

United Kingdom London

United States CA Los Angeles

United States TX Dallas

United States NY New York

United States OR

United States NC Charlotte

Payment cycle:

1,3,6,12 months

Website languages:

English

More details about GtxGaming.co.uk
Payment methods:
Mod support:

All Mods Supported

Auto Updating Mods

1-Click Install & Update

Mod Manager GUI

Customer support:

Email

Ticket System

24/7 Support

Notes:

24 Hours Money Back Guarantee

Game Switching

Steam Workshop Manager

Automatic Offsite Backups

Control panel:

Custom

Cluster support:

Free
Ark Server Hosting with a FREE 24 Hour Trial. Instant Setup.
Trial our Ark Game Servers for 24-Hours absolutely Free. Order a server and as soon as you get to the invoice page, the server will setup instantly, you only need to pay the invoice within 24 hours to keep your server going.

NO MEMORY LIMITS
A lot of other companies charge extra for memory/RAM. At GTX we have never limited memory for our game servers.

24/7 SUPPORT
Our support is always open, night or day, public holidays, weekends, come rain or shine we are here to answer any queries you may have.

GAME SWITCHING
Here at GTX you can change your Ark server for any other game we host with a couple of clicks. Switch to any game whenever you want.

DDOS PROTECTION
All of our data centers have an enterprise level of DDOS protection. Always online servers.

WORLDWIDE COVERAGE
We cover the entire global. Los Angeles, USA, Dallas, USA, New York, USA, Oregon, USA, Charlotte, USA, Quebec, Canada, London, England, Paris, France, Madrid, Spain, Frankfurt, Germany, Moscow, Russia, Stockholm, Sweden, Singapore, Malaysia, Sydney, Australia.

ENTERPRISE HARDWARE
We spare no expense with our server hardware. 100% of our servers are on SSD, and 90% are on 4.2Ghz clock speed i7 processors.

ALL MAPS SUPPORTED
We support all Ark maps, and if a new one is released we add it immediately.

ALL ARK DLC'S SUPPORTED
We support all Ark Survival Evolved DLC's and implement them immediately upon release.

24 HOUR REFUND
If for some reason you are unhappy with our service, we will simply refund you. No risk purchase.

NEW! AUTOMATIC MOD UPDATER
We have a specially designed mod updater that automatically detects when mod updates are available (sends a message to your server that updates will be installed) and then installs the latest version of all mods. Seamless operation.

INTEL I7 4.2GHZ
We make extensive use of i7 4.2Ghz CPU for extreme quality on UE4 based games like Ark Survival Evolved.

COMPETITION ENTRY
Every GTX customer gets the chance each month to win a huge prize, check out our competition page to look at past winners and how it works.

ARK ABERRATION & EXTINCTION DLC
We fully support Ark Aberration expansion pack and Extinction DLC. Ark Survival Evolved's subterranean DLC for December.

CROSS TRAVEL
Full cross travel support. Link unlimited amount servers together, host more maps or mods and travel between them with your dinos and gear.

PROCEDURAL MAP
Generate your own random maps with our amazing random map generator tool.

STEAM WORKSHOP
Download Steam workshop items with our easy to use tool. Install them straight to your server with a few clicks.

AUTOMATIC MESSAGES
Schedule messages to be sent to your server at a time of your choosing.

OFFSITE BACKUPS
We make full backups of your Ark server every day, you will never lose data at GTX.

BEYOND-API PLUGIN SUPPORT
Install Beyond Api as 1 click from our Mod Manager. Request DLL access via Support ticket from our Client Area.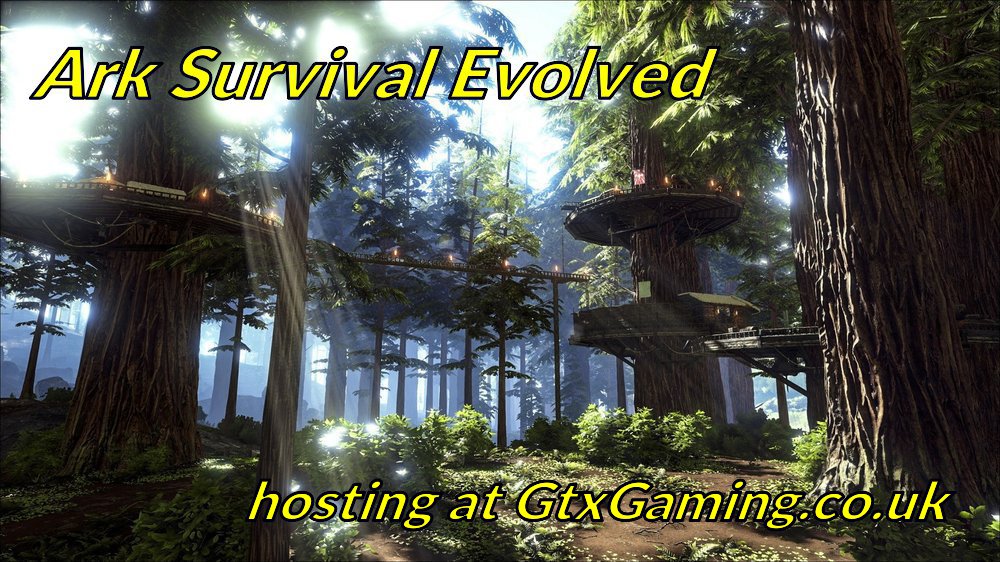 Last reviews about GtxGaming.co.uk:
I'm very happy with the service I get from GTX, so no complaints from me.

I've been using GTX for a few years now for our gaming server, team-speak and website, and recently started using them for my business website as well, customer support for the most part is very good, they are always happy to help where they can, reliability is very good and when there does happen to be an issue at the data-center they get straight on it. generally I'm very happy with the service I get from them, so yep no complaints from me.

From the get go i knew gtxgaming would…

From the get go i knew gtxgaming would be better than my previous hosting service. Support is spot on and my ticket was answered within 3 minutes. 10/10 for configurability. 10/10 support

The server is so easy to create And set…

The server is so easy to create And set up, i had to ask the support a few times, but they answered quick, And that i could get what they mean. Definetly 5 stars